The Transportation Request template allows for you to import upcoming or previously executed transportation requests, such as field trips at schools, sporting events, etc. With this template comes many different custom fields, all depending on your industry needs. Most often, schools use this module more so than other industries.
*The ability to bulk import data is set up at the user type level by each module.
1. Navigate to Bulk Imports tab on the left-hand side of your page:
2. Click on the Import button at the top right of the page:
3. Select Transportation Import: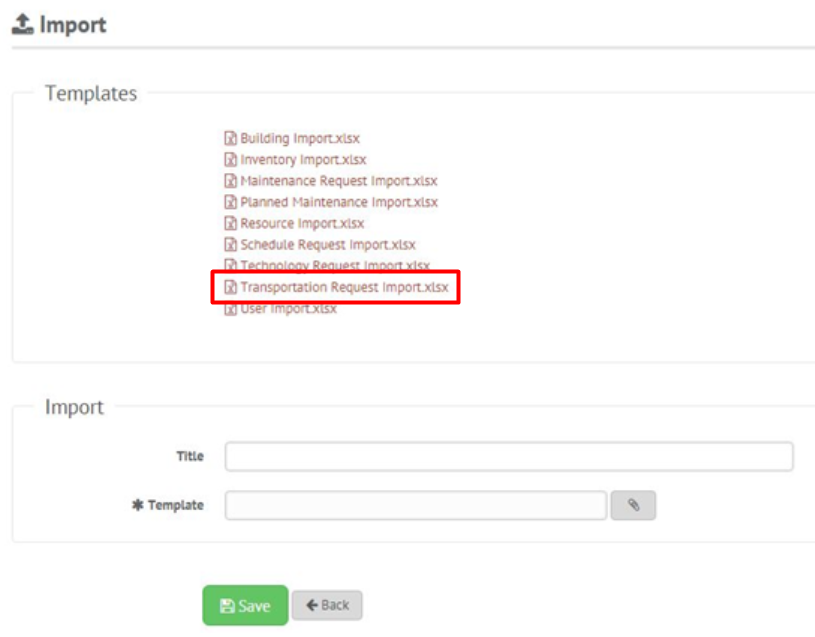 4. Populate the template with the required information; these are all columns that contain an asterisk (*):

Name*: Make sure the name of each request has a uniquely identifiable name
Request Type*: Most often this request type is set to "General", but it can be modified in Admin Settings to be more specific.
Building*: At what building is this request being made?
Pickup location*: This needs to be a previously created location that is located at the building in which the request is being made. (e.g. Main lobby, SE Entrance, Red Lot).
On behalf of: This would be filled out if the request is being made by someone for someone else.
Destination*: The is where the trip will be going.
Departure Date and Time*: This is the day and time each trip will be leaving the assigned pick up location.
Return Date and Time*: This is the day and time each trip will be returning to the assigned pick up location.
Created Date and Time*: This is when and at what time each request was created.
User*: This is who created/is creating each request.
Assignment: This is where you would include specific drivers and vehicles that have been assigned to each request. (Users cannot be assigned unless they are marked as "can be a driver" in their settings).
Common Custom Fields in a Transportation Request Template:
Handicap bus required (yes or blank if no)

Number of passengers

Number of vehicles

Staff member in charge

Chaperones

Purpose of trip

Event details

Overnight trip (yes or blank if no)

Will stop for meals (yes or blank if no)
5. Once you have completed filling out the import template, save the document to your computer.
6. Navigate back to the import page of your FMX site.
7. Title the name of your import in the Title section.
8. Click on the paperclip icon in the Template section to upload your import template. This will bring you to your saved documents where you find and attach your template.
9. Scroll to the bottom of the page and hit Save.
10. If you receive any errors, correct your import template so the information matches exactly to the data in your site (If a building is in your site as "High School" and you populated this field in your import template with "HS", you will need to correct this field to say "High School" so it matches the building name exactly to what is in your site). Click here to read more about bulk import errors and how to fix them.
11. Once you have corrected the errors on your template and hit save, repeat steps 7-9.
12. When your import has been completed, a green message will appear at the top of your screen that reads "Success! (Your template name) has been imported with (# of records) records".
For more on Bulk Import Templates, click the links below!
Defining and Using Bulk Import Templates
Was this article helpful?