Buildings are one of the most crucial pieces of information that you need to have in order to begin using FMX. These are simply just the buildings that can be found on and around your organization's property (i.e. The schools that make up a district, or the residential and recreational buildings that make up an apartment complex, etc.) To bulk import buildings into your FMX site, follow the steps below:
* The ability to bulk import data is set up at the user type level by each module.
1. Navigate to Bulk Imports tab on the left-hand side of your page:
2. Click on the Import button at the top right of the page:
3. Select Building Import: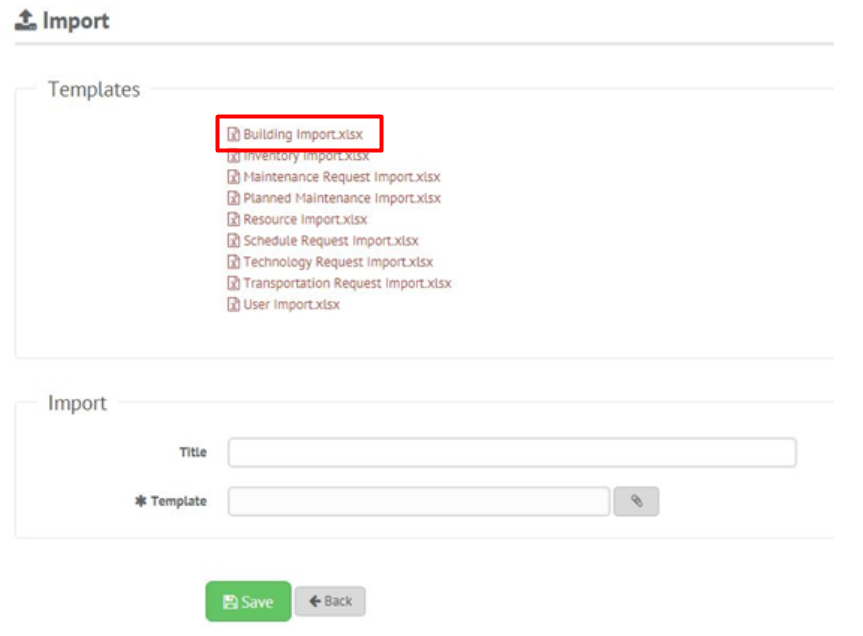 4. Populate the template with the required information; these are all columns that contain an asterisk (*)
Name*: This name could be anything from, "Indian Springs ES" for a school district, "Leasing Office" for a property management company, to "Warehouse 15" for a manufacturing company. Buildings can ALWAYS be added to your list at a later date, and they can even be deleted, but be careful! Deleting a building will ALSO delete everything and anything associated with that building.
Address, Phone, Entrances, Additional comments, Area (sq ft), Emergency info, and Year Built: These are all areas where you can insert details about each building; however, they are not a requirement when creating a building.
And lastly, when it comes to Custom fields, these are where you can add any additional information regarding your buildings if you should need/want to.
5. Once you have completed filling out the import template, save the document to your computer.
6. Navigate back to the import page of your FMX site.
7. Title the name of your import in the Title section.
8. Click on the paperclip icon in the Template section to upload your import template. This will bring you to your saved documents where you find and attach your template.
9. Scroll to the bottom of the page and hit Save.
10. If you receive any errors, correct your import template so the information matches exactly to the data in your site (If a building is in your site as "High School" and you populated this field in your import template with "HS", you will need to correct this field to say "High School" so it matches the building name exactly to what is in your site). Click here to read more about bulk import errors and how to fix them.
11. Once you have corrected the errors on your template and hit save, repeat steps 7-9.
12. When your import has been completed, a green message will appear at the top of your screen that reads "Success! (Your template name) has been imported with (# of records) records".
For more on Bulk Import Templates, click the links below!
Was this article helpful?