Inventory items are used to track consumable items or spare parts such as light bulbs, spare parts, air filters, etc.
*The ability to bulk import data is set up at the user type level by each module.
1. Navigate to Bulk Imports tab on the left-hand side of your page:
2. Click on the Import button at the top right of the page:
3. Select Inventory Import: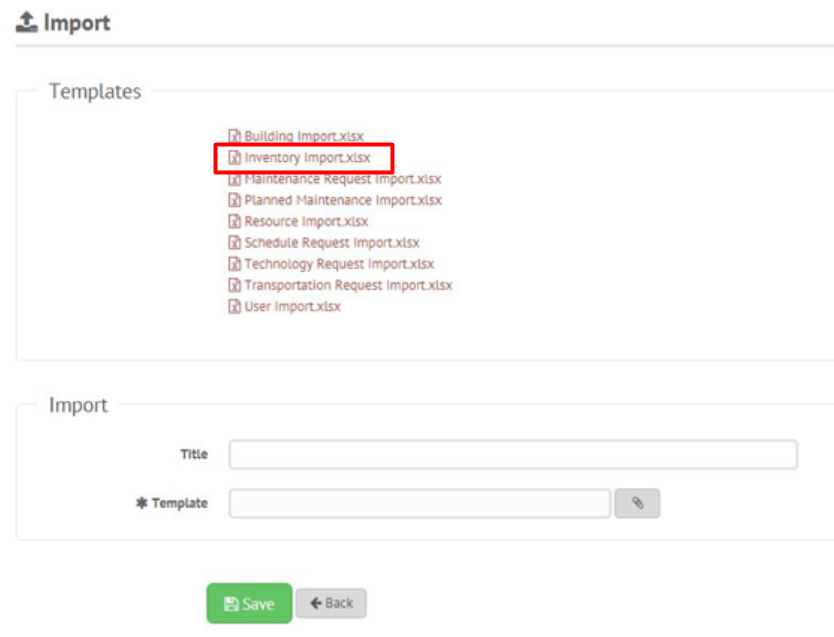 Name*: Here you will include the names of your individual pieces of inventory. Just like equipment, make sure that these names are recognizable and somewhat unique.
For example, instead of using "Pipe - 6 in." you might use "Cast Iron Pipe - 6 in."
Building*: This is where the inventory can be found. Again, just like equipment, each piece of inventory needs to "belong" somewhere. Type*: This is where each piece of inventory is assigned to a previously created Inventory Type, such as "Maintenance" or "Housekeeping". Some can get very specific with their types (Pool Maintenance Parts), while others are more general. *Always double check to make sure these types have been created on your FMX site prior to importing. If they haven't, then you can create new ones to match your data (or you can modify your types on your template to match what you already have on your site).
For example, maintenance parts will most likely be stored in the "Maintenance Storage" building. Just make sure these buildings exist on your site prior to importing.
Location*: This is a required field. Locations are places in or around a building that helps you narrow down exactly where something can be found.
For example, within the "Maintenance Storage" building, there might be the "Spare Parts Room" where your 6 in. pipes can be located, and even more specifically, the spare parts room can be a"Parent Location" for Cabinet A > 2nd shelf (see example below)

So, as you can see, locations do not have to be just specific rooms; they can also be shelves within a room, or cabinets within a kitchen.
Current Quantity*: This is crucial for you to record if you need to keep track of how much inventory you have left, and how often you use specific pieces of inventory. This helps you when you are making your routine purchase orders.
Minimum quantity
: This is not required, but some customers like to use this feature, as it notifies you when you are running low on inventory items.
Unit Price: This is not required, but can help give you a better estimate of how much money your inventory item cost, possibly helping you to cut down on costs in certain areas if need be.
Assigned users: This is not required, and is used if only specific users are assigned to certain pieces of inventory.
i.e. "John Snow", the Electrician, is assigned to all electrical parts.
Suppliers: This is not a required field. Suppliers are created when a customer creates their users/contacts (or they can be added anytime). A supplier can be listed on your site, but not be considered a user, giving them no access to the site.
i.e. "Sherwin Williams" is a supplier for all of the paint at an apartment community.
As for Custom fields, you might see "Model number" or "Serial number"; it just all depends on your needs and preferences. These can be added to your site under Admin Settings.
5. Once you have completed filling out the import template, save the document to your computer.
6. Navigate back to the import page of your FMX site.
7. Title the name of your import in the Title section.
8. Click on the paperclip icon in the Template section to upload your import template. This will bring you to your saved documents where you find and attach your template.
9. Scroll to the bottom of the page and hit Save.
10. If you receive any errors, correct your import template so the information matches exactly to the data in your site (If a building is in your site as "High School" and you populated this field in your import template with "HS", you will need to correct this field to say "High School" so it matches the building name exactly to what is in your site). Click here to read more about bulk import errors and how to fix them.
11. Once you have corrected the errors on your template and hit save, repeat steps 7-9.
12. When your import has been completed, a green message will appear at the top of your screen that reads "Success! (Your template name) has been imported with (# of records) records".
For more on Bulk Import Templates, click the links below!
Defining and Using Bulk Import Templates
Was this article helpful?