Watch our video to learn how to create a schedule request on your site:
Shortcut Using Your FMX Calendar:
1. From your calendar, click on the day for which you would like to create a request. Once selected, this screen will appear: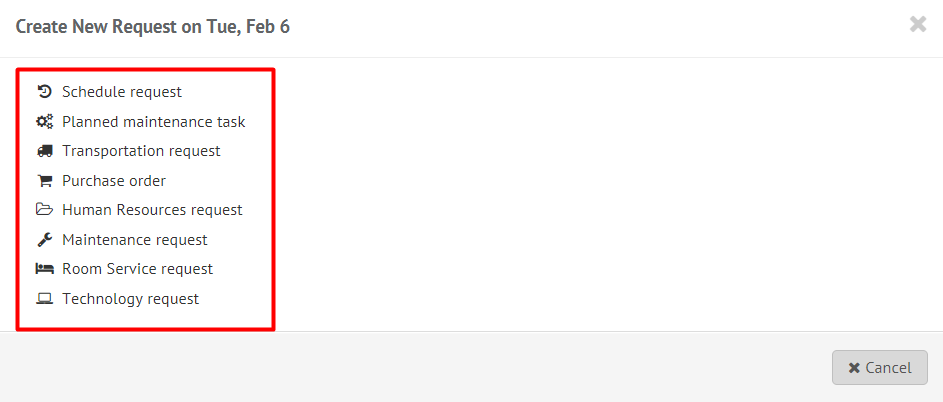 2. Click on Schedule Request
3. A new window will open for you to complete the details of your request. When finished, click Save.
Follow the steps below to create a schedule request in FMX:
1. On the calendar page, click New Request on the top right side of the page, then select Schedule Request.
2. Enter the type or category of your request (e.g. Community, General, etc.)
3. Enter the name of the event.
4. Enter the date that the event starts.
5. Select the checkbox labeled "All Day" if the event will encompass a full day
6. Enter the time the event starts
7. Enter the time the event ends
8. Select how often the event repeats
9. Select when the event ends (e.g. following week, following month, on date)
10. Select which building the the event will occur (To schedule multiple buildings, make sure to have the "Can set multiple buildings" user type permission enabled)
11. Select the resource (location) type you need for the event (e.g. Cafeteria, Conference Room)
12. Select the resource (location) the event will take place
13. Add in any custom fields you need to capture more information about the event.
14. Click Save to submit a schedule request. (To capture additional information from the requesting user, click here to learn how to add custom fields to request forms).
15. Check your email for your request confirmation email.
16. Your request will be marked as finalized and will appear on the calendar.
17. To cancel a request, navigate to the desired request on the grid and select the cancel icon. Once cancelled, a schedule request may be rescheduled by clicking the reschedule icon in the grid or on the request page.
Note: If you have numerous Schedule Requests, it would be more efficient to have us import your Schedule Requests for you. Click here for the Schedule Request Import Instructions and Template. Contact support@gofmx.com to learn more!
Was this article helpful?