Adding Users/Contacts to Your FMX Site
An administrator or user type with "create user" access can invite users to your FMX site. Follow the steps below to add a new user.
1. Click Users & Contacts on the left side of your page:

2. Click Add record in the top right corner. When adding a user, click User, and when adding a contact, click Contact:
3. And lastly, fill out all of the required information, as well as any other information you would like. As you can see, there are a few options when it comes to creating a password here. Choose which option works best for each individual.
4. Click Save.
5. An email will be sent to the new user with information on how to log into their FMX site.
Administrator User Settings
An administrator can edit a user's contact information, user type, building access and email preferences. To edit a user's settings:
1. Click Users & Contacts in the left sidebar, then search for the user.
2. Click on the Administrator icon next to the user on the right side:

3. Use this section to edit the user's name, email address, user type, building access, time zone, phone number, ability to drive and email preferences.
4. Scroll to the bottom and click Save to update the user's settings.
Allow Users to Create Their Own Accounts
Click here to learn how to turn on account registration for your organization.
1. Have users (Staff, Requesters, Tenants, etc.) navigate to yourcompany.gofmx.com/register OR from your organization's log in page (yourcompany.gofmx.com/login) click the Need an account button: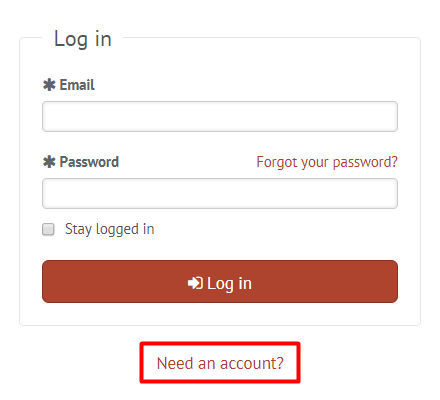 2. Users will enter their First name, Last name, Email, Re-enter Email, Password and Re-enter a Password.
3. Scroll to the bottom and click Continue to register for an account.
Note: If you have numerous users, it would be more efficient to have us import your users for you! Contact support@gofmx.com to learn more or download our import template.
Was this article helpful?